Welcome!
The Historic Meridian Park neighborhood in Indianapolis, Indiana, USA is bounded by 30th and 34th Streets, Pennsylvania Street, and Washington Boulevard.

Annual Summer Barbecue
When:  Saturday, July 25, 2015 from 3:00 to 6:00 PM
Where:  HMP Pocket Park, 215 E. 33rd Street
Details:  The Neighborhood Association will provide burgers, hot dogs, beer, and wine. Please bring a side dish or dessert to share. You may also want to bring a lawn chair as seating in the park will be limited.
Our Latest News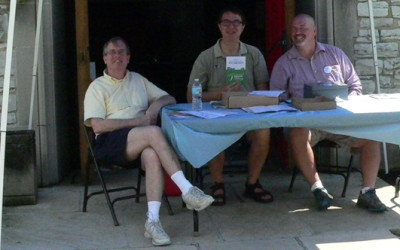 Thank you so much for your interest in visiting the "2015 Historic Meridian Park Home our – Historic is the New Green: Restoring the Urban Community."
read more
---

History
The Historic Meridian Park neighborhood was farmland until the turn of the century. Then a bridge over Fall Creek and the personal automobile made commuting downtown much easier. This suburban environment, distanced from the noise and smoke of downtown, quickly became desirable and supplanted Woodruff Place and Irvington as the most exclusive and fashionable neighborhoods of their day.
read more

Vision
Historic Meridian Park is a vibrant, safe neighborhood with a strong sense of community and connectivity. The social fabric of the neighborhood promotes respect for diversity, helping one another, and pride in our homes. Residents of all ages appreciate the unique aspects of living in a historic downtown community and recognize the important role they play in shaping its future.